Lloret de Mar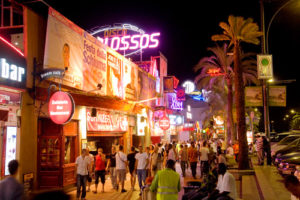 The resort on the Costa Brava is Lloret de Mar! Located on a beautiful Bay Resort has everything for a vacation full of Sun, sea, beach, nightlife and action! Lloret de Mar is known as a lively seaside resort. Combined with one of our villas you have a great holiday! Lloret has an old centre, a wide sandy beach and a long promenade with palm trees. You will find many bars, clubs and eateries.
Lloret is best known for its vibrant nightlife. You can entertain themselves until the early hours of the morning and enjoy the good atmosphere. The beach in combination with an azure blue sea making Lloret an ideal water sports place. There are plenty of water sports facilities offered.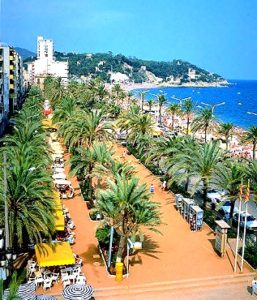 But the Interior offers very much beauty. Enjoy during a jeep safari from the mountainous hinterland or during an excursion to the cosmopolitan city of Barcelona. Or you pull out there on your own, everything is possible!
Anyway, Lloret is a sunny destination where you will surely one time must have been. You will experience a unique holiday guaranteed you won't soon forget!
Beach
Lloret de Mar is located on a beautiful Bay and features no less than five sandy beaches that are surrounded by beautiful rock formations. The beaches are wide, elongated and covered with fine sand. There are also various facilities such as sunbeds and umbrellas and there are many beach bars.
Tossa de Mar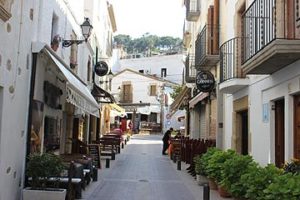 Tossa de Mar is undoubtedly one of the most beautiful seaside resorts on the Costa Brava in Spain. Tossa de Mar is located close to the popular Lloret de Mar, but is less touristy and therefore has many Spanish influences. It is an old medieval town which bears the nickname Blue paradise and has the most beautiful coastal scenery of the region. Located on a beautiful, enclosed by rocks and Woods Bay with a medieval castle. This castle, a tourist attraction, is beautifully lit in the evening.
The old town, Villa Vella, is surrounded by walls dating from the 14th century, much of which has been preserved, such as the towers de Las Horas and the Jonàs. During the day, entertained you on the beach of Tossa de Mar and in the clear waters of the Mediterranean Sea.
Tossa de Mar also has bus and boat connections to other seaside cities. By the wide Beach and the friendly atmosphere Tossa de Mar is popular with families with children. In the many narrow streets and alleys you can go on a shopping spree. On Thursday morning there is a market.
Of course you can also in the evening on one of the many terraces enjoy the beautiful view or eat outside in one of the cosy restaurants. You will not get bored! A holiday in the unique Tossa de Mar is more than worth it.
Beach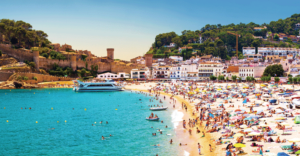 Tossa de Mar has 4 beaches. The Gran beach is a sandy beach, located against the city wall with towers of the old town Vila Vella. The Mar Menuda Beach consists of sand and is bordered on both sides by cliffs. The Es Codolar beach is a sandy beach between high rock walls with fishing boats on the beach.
The Llorell Beach consists of sand. Behind the beach are jagged rock faces with dense vegetation. Finally the Giverola-Beach which consists of sand and is only a little further. All the beaches have various facilities such as lounge chairs, umbrellas, showers and cosy beach bars and restaurants.
Activities/Excursions
To give you a clear picture of what is happening in Lloret de Mar and Tossa de Mar near to see and do, we have for you some activities and excursions:
Barcelona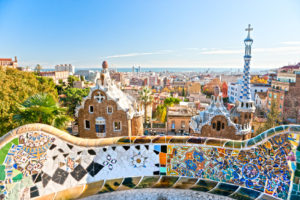 This city is the largest and most important city of Spain after Madrid. The city is rich in culture and history and has a lot to offer for both young and old. So you must have paid a visit to the imposing Cathedral, Sagrada Familia.
And what about the cosy and lively boulevard that runs through the old town: the Ramblas. Here you will find lots of fun stalls, street theatre, terraces and a special international atmosphere. Of course a visit to Nou Camp football Temple also. This and much more is on the program at an excursion to the cosmopolitan city of Barcelona.
Diving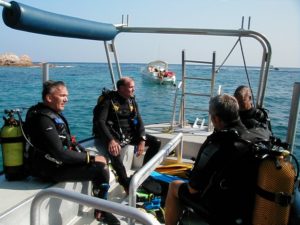 The beaches on the Spanish coast are wonderful and the azure blue sea. In combination with
a wonderful climate, this makes that in Lloret de Mar and Tossa de Mar numerous watersports facilities are offered. One of them is diving. With a boat ride will take you to a nearby Bay where a diving centre.
After an extensive diving and safety instruction by professional instructors you will be taken on an unforgettable journey under water. After diving there is a barbecue on the program.
Cycling and walking
Although the hinterland is hilly, it is certainly worth a long walk or cycling trip. There are several routes that run along some nice Spanish villages. You can then withdraw the hinterland with the first bus to go hiking there or a bike.
In combination with a wonderful climate makes this that in Lloret de Mar and Tossa de Mar numerous watersports facilities are offered.
Parasailing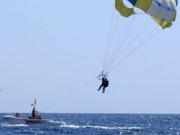 For the holiday-maker with the necessary dose of guts there is a unique activity on the coast:
Parasailing! You will be hanging on a special parachute pulled by a motorboat along the Spanish costa. From the air you have a breathtaking view over the beautiful coastline. From the boat can family and/or friends take pictures and a little enjoy. Highly recommended!
Jeep safari
The hinterland of Lloret de Mar is brilliance: a rugged and mountainous terrain with stunning natural beauty. A jeep safari is the ideal way to explore. You are with an open car along the most beautiful places in the area, where you can enjoy all the beauty that traditionally Spain has to offer.
So stop you among other things in a number of typical Spanish villages where the culture. Here you can see how the Spaniards live and enjoy delicious Spanish specialities. On one of the highest points do you finally have a breathtaking view of the Costa Brava.
Waterworld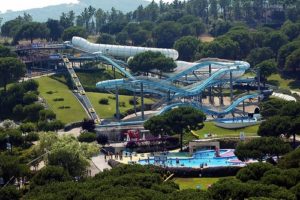 Waterworld is a water park on the Costa Brava. A real paradise that is ideal for
with the whole family to go. You will find all sorts of beautiful swimming pools, spectacular water slides and a wave pool with beautiful Rapids. It is just five minutes ' drive from Lloret. Waterworld is among other things a special bus that departs regularly from the Centre of Lloret.